Liverpool
'We were spot-on' - Klavan delighted with Liverpool response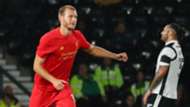 Ragnar Klavan says that Liverpool's performance against Arsenal was exactly the kind of response they needed after losing to Leicester City.
Jurgen Klopp's side were dealt a blow in their pursuit of a top-four place last Monday when they were beaten 3-1 by Leicester, but they moved up to third with a convincing 3-1 win over Arsenal on Saturday.
'Kante wanted to go to Marseille'
The Reds overcame Arsene Wenger's men thanks to goals from Roberto Firmino, Sadio Mane and Georginio Wijnaldum, and Klavan was pleased with the display.
"It was really important for the team to come back straight away and to play [well] here at Anfield in front of all those fans," the Estonia international told the club's official website.
"[There were] a lot of emotions today in the game, [it was] a great game from our side. 
"Of course, we're a little bit disappointed that they scored and we didn't have the clean sheet, but, all in all, 3-1 against Arsenal is a good reaction.
"We were spot-on, everybody was focused, and this is how it [was] especially first half.
"Second half, we [had] maybe not the best start, that's why we let them back into the game and they scored [for] 2-1.
"But after that, we defended well, we were compact and in the end Gini [Wijnaldum] scored the third goal and that was it."
Liverpool will look to push further up the table on Sunday, March 12 when they take on Burnley at Anfield.