Cristiano Ronaldo
'We need Cristiano' - Real Madrid stars on goalscoring struggles without Ronaldo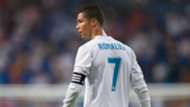 Real Madrid players are lining up to concede how much they rely upon Cristiano Ronaldo's goals following Saturday's draw with Levante.
The reigning La Liga champions are currently unable to call upon the services of their talismanic forward as he serves a five-match ban for collecting a red card and shoving the referee during a Super Cup clash with Barcelona in August.
Ronaldo still has one game left on that suspension, meaning that he will sit out a trip to Real Sociedad on September 17.
That could spell further bad news for Zinedine Zidane's side, who have collected just one victory from their opening three league games this season – with a 1-1 draw at home to Levante seeing them drop vital points as they once again failed to spark in the final third.
Theo Hernandez told reporters after that contest: "We tried hard throughout and our intensity was there as always but we just couldn't make the most of our chances.
"Maybe we did lack a little spark but we gave everything. We do need Cristiano to score goals but we don't necessarily need a No. 9. The squad will continue as it is."
Marcos Llorente added: "This wasn't the kind of game we were expecting but what would be most worrying for us would be if we didn't create many chances.
"These things happen and we must keep working. It is clear that in this team, he [Ronaldo] is very important and has an ability to score incredible goals.
"It would have been good to have him but those who did play tried their best throughout."
With Ronaldo missing, Zidane started with Lucas, Marco Asensio and Marcelo supporting frontman Karim Benzema.
The Frenchman was, however, to limp out of the action after 28 minutes, with Gareth Bale failing to provide inspiration when replacing him off the bench.
Madrid's lack of striking options is now being exposed, with the club having opted against bringing in a replacement for Alvaro Morata this summer after offloading the Spain international to Chelsea for £70 million.
Ronaldo's return will be key to their efforts this season, with the club's all-time leading goalscorer having netted 407 times in 396 appearances to date.