Liverpool v Tottenham Hotspur
WATCH: Can Tottenham overcome Liverpool? The Goal Pressure Index Week Two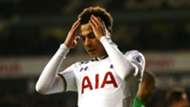 Tottenham Hotspur face Liverpool on Saturday knowing they can ill afford any more slip-ups if they are to maintain a title challenge.
Second-place Spurs sit a full nine points behind leaders Chelsea and Mauricio Pochettino's side must take all three points against a struggling Liverpool side who haven't won a league game since December.
The Reds have, however, won all four of their Saturday evening games this season and could all but hand the league title to Chelsea with a victory at Anfield.
Spurs striker Harry Kane has scored more match-winning goals in the Premier League than any other player since August 2014 and this could prove the weekend he climbs the Goal Pressure Index, presented by Sure and powered by Opta data, which provides the first ever system to measure and rate a team and player's performance under pressure.
No Tottenham player currently features among the top five Premier League players in the Goal Pressure Index, which is now led by Manchester City's David Silva.
The Goal Pressure Index uses more than 750,000 data points as well as factors including league position, point in the season and the opposition to calculate a rating out of 100 for every Premier League player every week.
The Goal Pressure Index is presented by Sure, Official Partner of Chelsea FC, Everton FC and Southampton FC. Join the conversation on Twitter @Sure.