World Cup
Vodacom Red Preview: Croatia keeping with tradition against France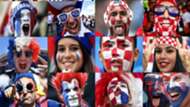 Like the saying goes, fire tests gold, adversity tests brave men; Croatia have been tested and proven in Russia. They now appear hardened and fearless ahead of the final which, in their wildest dream, they never thought would happen.
A great strength of will, among other things, has guided their course thus far in the tournament, where they have stared at elimination a couple of times.
Croatia quickly made their intensions clear by dominating Group G, claiming all nine possible points, at the expense of the likes of Nigeria, Argentina and Iceland.
However, they were stretched in subsequent meetings of the knockout stages, fortuitously edging Denmark and host nation Russia on penalties to reach the semi-finals. 
England had a dream start, going into the break with a one-goal lead, but Croatia once more, showed character and eventually came out on top after extra time to reach their first final.
Not even France's bullet-speed attack would scare a team that has seen and survived the kiss of death in a competition.
Once bitten, twice shy - coach Didier Deschamps and his men have not forgotten their unexpected debacle in the Euro 2016 final, which they lost to Portugal 1-0.
Almost all the team's players in Russia have made references to that 'painful' event, which they 'never want to relive'.
Les Bleus are a complete and solid outfit with sharp forwards, creative midfielders, confident defenders and an excellent goalkeeper.
However, coming up against a team that would likely play with lesser pressure, seems trickier.
Deschamps' formula might not be altered greatly. He would seek to claim the lead as early as possible and force Croatia to come running and searching, which could free up space for the likes of Kylian Mbappe, Blaise Matuidi and Olivier Giroud.
The Blazers' strength mostly lies in the midfield where Luka Modric and Ivan Rakitic are masters. France's fluidity could be checked and choked in this department which could disrupt Deschamps' A plan.