Videos
VIDEO: Top 10 non-league goals of the season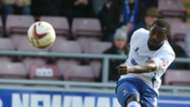 The Premier League may be the biggest football competition in the world, but do you sometimes find yourself bored by the 0-0 draws and world-class defending?
Premier League Team of the Season
Could top-tier English football benefit from more outrageous goals? Of course it could, but that may not happen. Instead, you can whet your appetite for gorgeous goals by checking out the top 10 non-league goals of the season.
Pitchero have selected their top 10 crackers, allowing you to vote for your favourite by Friday, May 19. It is going to be a difficult task to pick just one, because some of the goals are very special - including long-range blinders from Mossley's Callum Warburton, Marine's Kurt Sherlock and Hednesford Town's Desean Martin, as well as a wonderful flicked finish from former Derby County defender Pablo Mills.
Check out all the goals above and vote for your favourite here.