Videos
VIDEO: Terrible howler from Safa goalkeeper Taha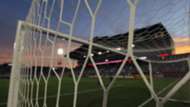 Safa goalkeeper Mohammad Taha endured an afternoon to forget during an AFC Cup clash with Al Wahda.
In his defence, the playing surface did him few favours as he found himself on the wrong end of a 6-0 defeat.
Taha's decision-making can also be questioned, though, with one particular effort seeing him get caught up in some rather shambolic defending.
WATCH: The world's worst referee?
Rushing off his line to meet a bouncing ball was his first mistake, with an unexpected bounce forcing him to palm up into the air.
Taha then proceeded to collide with his own defender as he attempted to make amends, leaving the goal gaping for Mohamed Al Hasan to fire into the back of the net.
You can check out the chaotic scenes in the video above.