Oriente Petrolero
VIDEO: Oriente Petrolero star suffers horrific bloody head injury after fan throws rock at him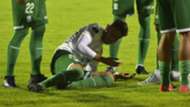 Oriente Petrolero player Oscar Ribera suffered a shocking cut to the head after he was struck by a rock thrown from the stands by a supporter.
All the latest transfer rumours
The defender was lining up in front of the fans prior to kick-off of the Copa Sudamericana fixture with Ecuadorian side Deportivo Cuenca before, out of nowhere, he falls to the ground with blood pouring from a head wound.
As the graphic scenes in the video at the top of the article show, the player does nothing to provoke the supporter and, despite a valiant effort to play the match, eventually has to be taken off after 62 minutes.
Oriente Petrolero would go on to win the game after a 1-1 draw in normal time, 2-2 on aggregate, with the Bolivian side triumphing 8-7 on penalties to advance through to the second round.