Videos
VIDEO: Billericay Town's bizarre pre-game R. Kelly singalong inspires them to cup glory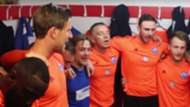 Coaches around the world look for all sorts of ways to motivate their players, but few insist on a sing-song before matches, let alone a cup final.
However, that's exactly what the owner and manager of Billericay Town did before his side's Alan Turvey Trophy final clash with Tonbridge Angels... and it seems to have worked!
All the latest transfer rumours
In the dressing room ahead of the game, Glenn Tamplin roused his players with a collective rendition of the R. Kelly song 'The World's Greatest'.
As part of the pre-match ritual, Tamplin demands: "Suck in deep, get in this f****** circle and you sing this for your f****** lives!"
It's a tad unconventional and maybe even somewhat cringe-inducing, but, with the words "the greatest!" ringing in their ears, the Jamie O'Hara-led Billericay Town went out and triumphed comfortably, beating Tonbridge 8-3.
Watch the bizarre pre-game ritual in the video above. Be warned: it contains a lot of swearing!