PSG
VIDEO: Angel Di Maria tears it up in Paris Saint-Germain training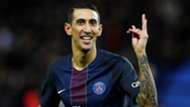 Angel Di Maria has netted just five goals for Paris Saint-Germain this season, but his radar certainly is not off judging by his efforts in training.
The Argentine forward offered an indication in his most recent outing that confidence is returning to his game, as he bagged a brace in a 4-1 victory over Bordeaux.
Verratti 'more than happy' at PSG
And his ongoing efforts behind the scenes suggest that the former Real Madrid and Manchester United forward is comfortable with his own form.
He certainly left nothing on the field as the PSG squad were put through their paces by Unai Emery on Friday, with few of his team-mates able to get near the South American.
A video posted by Ángel Di María (@angeldimariajm) on Jan 27, 2017 at 8:35am PST
Di Maria's ability has never been in question, but his ability to perform on a consistent basis has.
He struggled at Old Trafford and is yet to show his true colours in France.
Belief is a big part of his game, though, and PSG will still be looking to the 28-year-old to help spearhead a pursuit of major honours on multiple fronts this season.