African All Stars
Victor Wanyama goal voted best for the weekend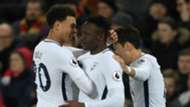 Victor Wanyama's wonder goal against Liverpool has been voted goal of the weekend in England.
According to SkySports News Poll, Wanyama scooped 60 percent votes from fans, beating Egyptian, Mohammed Salah's second goal that garnered 27 percent of votes.
The Egyptian scored in each half in a dramatic 2-2 draw with Spurs but it was Wanyama's strike from outside the 25-meter yard that left fans talking after the dramatic show at Anfield.
Wanyama pounced on a rebound after Liverpool goalkeeper, Loris Karius punched the ball into his direction and the Kenyan star unleashed a beast-like ferocious stunner into the net.