United States
USMNT falls flat in final Gold Cup tuneup
at Nippert Stadium in Cincinnati
The U.S. Men's National team and Venezuela took the field in Cincinnati on Saturday as two teams preparing for their respective regional competitions, but only one of those teams looked anywhere close to being ready to compete. 
The Americans delivered their second straight subpar performance on Saturday, surrendering three first-half goals in a 3-0 loss, the side's second defeat in four days.  
Those losses suddenly have the USMNT heading toward the Gold Cup looking like a team in disarray. 
"I don't feel like, for 90 minutes, we competed on the level that we needed to compete on," said USMNT coach Gregg Berhalter, who wasn't happy with his team's performance, but also wasn't about to press the panic button over the two losses his team suffered this week. 
"We came up short, and it doesn't mean that we're now going to scrap all the plans," Berhalter said. "We're always evaluating, and always seeing how effective we can be, and where we need to improve. So we're going to just continue that process." 
The United States was missing several key starters, including Christian Pulisic and Tyler Adams, but that still didn't excuse the mistakes made by a defense made up of three-fourths of what is likely to be the starting U.S. defense at the Gold Cup, as well as starting goalkeeper Zack Steffen, who began the first-half debacle with a terrible pass that led directly to Venezuela's opening goal (a goal that, based on replays, was offside). 
Newcastle striker Salomon Rondon scored two of Venezuela's three goals, including the one gifted by Steffen's turnover, with the second coming against U.S. defender Aaron Long, who struggled in his first game action in a month after recovering from a hamstring injury. 
The USMNT put together a better second half, generating some solid chances thanks to the insertion of substitutes Jozy Altidore and Jordan Morris, and forcing some acrobatic saves from Venezuelan goalkeeper Wuilker Farinez. That improved play left several U.S. players speaking positively about how the team responded in the second half,  
"It doesn't deserve to be a 3-0 scoreline. I felt we had a lot of chances for ourselves in the second half, even in the first half," U.S. defender Matt Miazga told Goal. "I felt we possessed the ball better, we created better chances. They had three half-chances and finished them. Second half was much better. We had so many clear-cut chances, and we have to better, more clinical."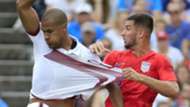 While that may be true, especially after the USMNT was shut out for the second straight match, the bigger concern coming out of Sunday's match was the state of the U.S. defense. Long's inclusion in the starting lineup was surprising considering he was coming off a hamstring injury that had sidelined him for the better part of the past month. To return from that sort of layoff and jump into the starting lineup against a striker like Rondon felt like an unreasonable assignment, but Berhalter defended it as a necessity considering the Gold Cup is just nine days away. 
"We need to get Aaron where he needs to be," Berhalter said. "We need to get him fit. So then the question is do we not play him? Do we not give him this game routine because we're worried that he can fail the challenge, or do we know where we need to go and because of that he plays? To me it was clear, he needs to play. He needs fitness. Forty-five minutes was enough. He came out injury free, which was very positive, and now we build." 
How much building can the Americans do in the nine days before the start of the Gold Cup, and does Berhalter's team have the building blocks to construct a Gold Cup champion?   
The losses to Jamaica and Venezuela haven't exactly instilled confidence in a U.S. fanbase that came into the June friendlies hoping for signs of progress in Berhalter's rebuilding project. Instead, those same fans have been given a harsh reminder of how much work still needs to be done. 
Berhalter isn't blind to the building cynicism surrounding his team after a pair of home shutout losses, but he knows the only way to change that is for his team to start winning games, and ultimately, win the Gold Cup.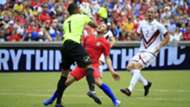 "I know what the narrative is going to be, that we have no chance, and we're going to lose or maybe not even make it out of the first round," Berhalter said. "That's fine. We'll deal with it." 
The recent losses have led to a growing chorus of boos among disappointed fans, but they haven't shaken Berhalter's resolve, or the belief of his players, who are ready to put the recent losses behind them and take the next nine days to start solidifying the full first-choice lineup, which we haven't seen in action. 
"Of course it's not ideal, we want to win every game, but we're not naive enough to think every game is going to be perfect," Miazga said. "We're going to keep going, and we believe in our squad that we're going to get it right. We know we have the quality, it's just fine-tuning things. 
"We can't dwell on (the losses)," he told Goal. "We have to work on the things we need to improve and get back to the drawing board, because we know we're a good team and we're going to get it right."