KPL
Ulinzi Stars set to rectify costly mistakes ahead of Mombasa trip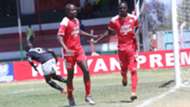 Ulinzi Stars will rectify the costly mistakes that saw them drop three vital points following a1-0 defeat in the hands of Vihiga United on Wednesday.
They Soldier were handed their first home lose by the Millers at the Afraha Stadium and Coach Dunstan Nyaudo seems to have learnt from the mistake of underrating an opponent as he prepares for a long trip to the Coast this weekend.
Nyaudo is optimistic his side has what it takes to bounce back from a heartbreaking loss to Vihiga United when they take on hosts Bandari in the KPL round 10 matches.
"Against Bandari, we want to rectify the mistakes and try and get a win; we can do better and that is exactly what we need."
Christopher Masinza strike was all the league debutants needed to down the soldiers, and register their first win of this season.
"It is sometimes heartbreaking to lose especially when you know you had chances to win. The opportunities we had were many but we did not take them and we ended up paying the price," Nyaudo lamented.
The soldiers have managed to get 14 points in the last nine league matches.