UEFA Nations League
UEFA Nations League Anthem: The full lyrics for European football's newest song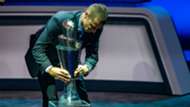 The inaugural UEFA Nations League is kicking off this autumn as 55 teams from across Europe take to the field in a bold new international competition.
Spain, Germany, England and more will all be involved in the venture, which not only sees a trophy up for grabs, but coveted places at the European Championship as well.
UEFA commissioned a unique anthem to herald the arrival of the Nations League to the international calendar and it is sure to be heard across the continent throughout the tournament.
Composed by Dutch musicians Giorgio Tuinfort and Franck van der Heijden, the anthem was recorded with the Netherlands Radio Choir and the Radio Philharmonic Orchestra
The anthem was played publicly for the first time at the UEFA Nations League draw in January 2018.
"The brief that UEFA gave was to compose a piece that would both symbolise the unity and also the emotion that comes with a very serious competition," Tuinfort told UEFA.com. 
"These football players, even though they fight [on the pitch], they still unite people and this is the most important message for us."
The lyrics of the song are predominantly Latin, with English peppered in at the end of a couple of verses. You can see the full lyrics (with an English translation) below and the song can be listened to here.
---
UEFA Nations League Anthem lyrics
---
Solum audax (Only the bold)
Solum fortis (Only the courageous)
Solum magnus (Only the great)
The Nations League
Cui manet fortuna? (Who will have fortune?)
O, cui aeterna gloria? (Oh, who gets the eternal glory?)
Sit optimo victoria! (May the best win!)
Dies luxit (The time has come!)
Una! (Unite!)
Lude! (Play!)
Certa! (Struggle!)
Una! (Unite!)
Praesta! (Lead!)
Vince! (Win!)
Omnes gentes! (All people!)
Iunctae gentes! (People unite!)
Omnes gentes! (All people!)
Hanc in lucem (Stand in the light)
Omnes gentes! (All people!)
Fortes gentes! (Strong people!)
Una prodite (One purpose)
Excellite (Excel)
Omnes gentes! (All people!)
Iunctae gentes! (People unite!)
Omnes gentes! (All people!)
Consistite (Stand together)
Omnes gentes! (All people!)
Iunctae Nationes! (All nations unite!)
Dies venit (The time has come!)
O, dies luxit (Oh, new day!)
The Nations League