U17 World Cup
U17 World Cup: Santiago Denia: 'We need to improve our defence'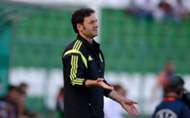 Spain eased past DPR Korea in their final group game to secure their place in the round of 16 of the FIFA U-17 World Cup. A goal each from Mohamed Moukhliss and Cesar Gelabert sealed a comfortable win for La Rojita.
On his team's performance today, coach Santiago Denia said, "The match was difficult as expected. Players were smart enough to understand what were the changes needed and to play a good game."
Denia though refused to call it a good performance. He continued, "I would not call this a perfect win. We still need to improve to achieve the objectives. We got three points which are important but there is still room for improvement."
On star player Cesar Gelabert's peformance, the coach opined, "Cesar already won a championship in Europe. I don't want to personalize victory. When you have talented players, it is easier to win matches."
Spain are likely to face France who are just a draw away to seal their place in the round of 16 as group topper. On France being their possible opponents, Denia said, "We know there is a chance to play France. I don't want to talk about it just yet because I want to respect other teams. We do believe that France has improved from the European championship."
Finally Denia stressed in the fact that the Spanish backline must improve. "If there is one place we need to improve, it is defence, We will need to defend better against better teams," said the Spanish coach.
DPR Korea coach Kim Yong-su was happy with his team's performance in the World Cup. He said, "Through these matches, all teams were very good. Even though they are young players, they are strong and well built. It was a good experience for our team."
He analysed his team's performance saying, "Spain and Brazil are very strong team so we just focused on defending too much and we didn't create much goalscoring opportunities."
DPR Korea bow out of the competition without a single point.