U17 World Cup
U17 World Cup: Jadon Sancho to stay with England U17, confirms Steve Cooper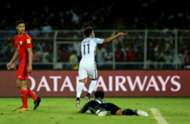 England managed a convincing 4-0 win over Iraq in their final group game in FIFA U-17 World Cup on Saturday. With three wins in three games, the Young Lions have set up a Round-of-16 fixture with Japan in Kolkata.
Speaking after the game, England U-17 coach Steve Cooper confirmed the availability of Borussia Dortmund player Jadon Sancho for the rest of the tournament. There were fears over a potential mid-tournament departure but all such rumours have been put to bed by the coach.
"Jadon will be here with us. We don't have any news on him leaving," confirmed Cooper.
The crowd in Kolkata has been amazing so far in the tournament and the England coach is happy about playing their knockout fixture at the Salt Lake Stadium.
"Japan is a good team and congratulations to them for qualifying for the round of 16. I am happy about staying back at Kolkata. The support has been amazing here. We have two days to prepare now. We will train hard and face Japan on Tuesday."
"It [progressing further in the World Cup] is a step by step process. The performance today was pleasing. Topping a tough group with quality oppositions was good. Next up is Japan. We are focusing on them. We will try to strive with every game. Scoring so many goals against tough oppositions was a positive." said a buoyant Cooper.
"We picked the same starting XI in the first two games. We brought 21 players to India. All are equally good. We made some changes today and ended up winning well against a strong opposition like Iraq. All 21 players can start and make a difference."
Iraq U-17 coach Qahtan Jathir touched upon the second yellow card picked up by Dawood, a punishment that will rule him out of their knockout fixture against Mali.
"Dawood wasn't supposed to play today initially. We told him to be careful. This is football that was referee's call. We cannot do anything."
"England are a strong team and a well-organised unit. We tried to change our tactics. They were better than us. Our players were exhausted in so much humidity." conceded Iraq U-17 coach.
England will lock horns against Japan in their knockout round fixture on October 17 in Kolkata. Iraq will face Mali on the same day in Goa.