U17 World Cup
U-17 WC: Fabin rues missed chances in United States defeat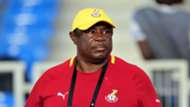 Ghana suffered their first defeat to the United States at the U-17 level in the ongoing Fifa U-17 World Cup in New Delhi, India on Monday.
Following a 1-0 victory over Columbia in their opening game last week, the Black Starlets fell to the United States thanks to a 75th minute effort from Ayo Akinola, which was a second win for the Young Yanks, qualifying them to the next round.
Fabin was bullish ahead of the game but was left lamenting on his forwards' poor conversion rate.
"We played well and had so many chances but we didn't take them and we got punished," Fabin said.
"In association football, when you don't take your chances this is what happens. I hope we can learn from this game. We'll keep working on our goal scoring and hopefully against India in the last group game, we'll be able to exhibit it on the field and pick the three points to qualify to the next round," he added.
India, who are making their first appearance in the competition, lost their first game to United States and were beaten by Columbia 2-1 in the second outing on Monday.