Pahang
Transformed Syamim leading Pahang's title charge
---
 BY       OOI KIN FAI      Follow on Twitter
---
Before the start of the 2017 Super League season, Pahang were not considered to be one of the challengers for the title. Dollah Salleh's homecoming was heralded to be a positive spin on the fortunes of the once mighty Elephants who only narrowly missed relegation last season after a disciplinary decision went their way.
Incredibly, as we stand after a quarter of the league fixtures completed, Dollah are leading his team on a charge for the title as they sit only a point behind Kedah after six matches played. At the forefront of Pahang's assault on the title that has recently been hogged by Johor Darul Ta'zim (JDT) - is none other than Syamim Yahya.
Syamim has started in all six of Pahang's matches in the league this season and with a record of 4W1D1L, he is looking likely to be involved in his second consecutive title challenge in as many seasons - albeit with a different twist compared to his one with Felda United last season.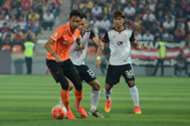 With one goal and two assists thus far, Syamim is taking to moving in-field from a wide midfielder role to a central one, like a duck to water. Ever-present in the Pahang side, he has shown his ability to adapt to the new role from both the offensive and defensive responsibilities required of the central role.
It would not have been an easy transition having played most of his career up to this point either as a winger or a wide midfielder. Syamim's confidence and ability on the ball is what is enabling him to shine as the heartbeat of this new-look Pahang side.
Syamim is not the first wide player to excel having move to a central midfield role. There are many examples across the world and even one closer to home. Bastian Schweinsteiger was originally a winger before cementing his place as one of the best German central midfielder and David Beckham is also another example of a player who made the same successful adaptation.
Of the current crop of players, JDT's Amirulhadi Zainal is probably one of the more famous converted wingers. Arsene Wenger has often times started his budding central midfielders in the wide areas as a mean to get them to be comfortable keeping the ball in tight spaces and being closely marked.
The Malaysia national team reconvenes in the middle of March for the first round of matches in the third round 2019 Asian Cup qualifiers and on this form, Syamim will have to be on the list to be called up. Coincidentally, Syamim has only ever played for the national team when it was under the reign of Dollah but given the paucity of options in the middle for Datuk Ong Kim Swee right now, the 26-year-old Syamim looks set to be part of the consideration.
If Pahang are to recapture their glory days from a few seasons back, Syamim's fitness and consistency looks increasingly vital to that particular cause. With more games to be played, Syamim's continued progress as a central midfielder is certainly one to look out for, for the rest of the 2017 Super League season.