KPL
Tough talking Nicola Kavazovic draws rule of engagement as he takes over at AFC Leopards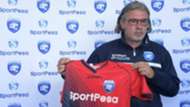 Newly appointed AFC Leopards coach Nicola Kavazovic has clearly drawn the line that must be observed by both sets of Ingwe fans as he took over at the Den.
A tough-talking Kavazovic replaced a rather soft speaking Rodolfo Zapata, who allowed himself to be boxed into the corner by a section of Ingwe fans. Zapata's exit from the Den was greatly influenced by the pressure from a section of fans and a divided Technical bench.
But the former Township Rollers coach now insists that he will not entertain external interference even as he called for patience from the ever impatient Ingwe fans.
"This is my message to AFC Leopards fans; I didn't come here to be liked. I didn't come to be respected. I know there are expectations. Some expectations are not realistic. They just want titles; nothing else, but I hope we will have some normal type of relationship.
"I am the type of coach, who never promises. I never promise absolutely. For me, any coach, who promises anything is ignorant. It is impossible to promise anything in football. We can finish this season with 15 points more than the second-placed team on the log, we can also finish the season at position 13, anything is possible but I know that I have a greater responsibility.
"I'm told that the supporters have given me two weeks to two months, but I can assure you that I am not going anywhere. If I fail in the first season, then be sure that I will make something big in the second season because, in the first season, we are going to chase results."
The double Botswana Premier League winning coach also told Ingwe management that they may reconsider lowering their season's expectations. This after the club inserted a clause in his two-year contract that he must achieve a top-two target at the end of the season.
"I don't have too much options because they put in my contract that I must finish in top-two and I must win the Cup. So whether that's a realistic picture or not, it is subject for discussion.
"You will never hear from my mouth that I am complaining about my players; that I'm comparing my players with another from other teams or that I am complaining about the training conditions. I will always take full responsibility for every defeat or lose.
"If I have a problem with the training pitch, I will speak to the club, but not you (Journalists) or supporters."