Manchester United
'Totally biased & corrupt!' - Twitter rages after Rojo escapes ban for Hazard stamp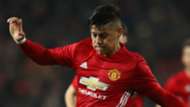 Marcos Rojo will be feeling very lucky after escaping a Football Association (FA) ban following Manchester United's FA Cup clash against Chelsea on Monday.
The defender appeared to stamp on Chelsea star Eden Hazard as the Red Devils bowed out of the competition in a 1-0 defeat to the Premier League leaders.
United have since been slapped with a charge for failing to control their players in the aftermath of Ander Herrera's dismissal for picking up two yellow cards at Stamford Bridge.
However, Rojo was not hit with a punishment, leading to several people taking to Twitter to blast the FA's decision.
One of them was Bournemouth's Tyrone Mings, who was recently handed a five-game ban for stamping on Zlatan Ibrahimovic's head during a Premier League game between the two at the start of March.
Lol

— Tyrone Mings (@OfficialTM_3) March 14, 2017
And several other Twitter users felt the need to follow in Mings' footsteps, though with slightly more characters!
Mings gets 5 match ban for stamp Rojo nothing escapes for the 3rd time this season the FA showing once again its totally biased & corrupt

— andy (@citymanblue) March 14, 2017
So Mings gets a five-match ban while Rojo gets off scot-free for the third time this season? And United/Mourinho have the gall to complain?

— Shagun Goel (@gshag_16) March 14, 2017
Mental how Mings gets 5 games for a stamp yet Rojo gets nothing

— MΛC (@ryanmcii) March 14, 2017
Mings 5 games
Rojo 0 games

Same offence, time to bring retro punishment that supersedes refs original decision if necessary.

Unfair.

— Stan Collymore (@StanCollymore) March 14, 2017
So Mings gets a 5 game ban for a clear accident while Rojo gets nothing for a blatant intentional stamp. But the FA are against United.

— Joel Rabinowitz (@joel_archie) March 14, 2017
Tyrone Mings gets a ban for a stamp on a man united player but when Rojo does it no action is taken..double standards #mufc #afcb #FA

— Courtney (@Courtney_itfc) March 14, 2017
Suspect Bournemouth will be nonplussed as to how Rojo has escaped charge for alleged stamp on Hazard given Mings situation

— James Ducker (@TelegraphDucker) March 14, 2017
Mings's is a stamp. Rojo's not a stamp. Small club justice v big club justice.

— Oliver Holt (@OllieHolt22) March 14, 2017
So Marcos the butcher Rojo's stamp on Hazard has gone punished.

I bet Judas didn't see that one.

— Kay (@Cesc4Pass) March 14, 2017
Once again the FA gone soft on Man Utd! No further action to be taken on Rojo for that stamp!

— Karl Murch (@Karlos_Albertos) March 14, 2017