Tony Pulis
'Tony Pulis' hatred of Arsene Wenger was partly responsible for Aaron Ramsey leg-break'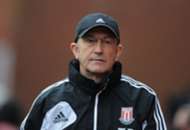 Tony Pulis 'despised' Arsenal boss Arsene Wenger and wound up his Stoke players so much it contributed to Aaron Ramsey's horrific leg-break in 2010, according to former Potters striker Dave Kitson.
Ramsey suffered a broken tibia and fibula following an ugly challenge by Potters defender Ryan Shawcross and was sidelined for eight months.
An increasingly bitter rivalry between the two sides had developed following the Potters' promotion back to the Premier League in 2008 due to their vastly differing styles of play.
Arsenal, of course, were known for their attractive, passing approach under Wenger. Stoke meanwhile were aggressive and direct, looking to intimidate the opposition, particularly at home.
The Potters appeared to relish taking on the Gunners more than any other side and now it seems there was personal element to the rivalry too.
Kitson, who was a Stoke substitute the day Ramsey was injured, believes a serious injury was inevitable as the players had been wound-up so much by Pulis during the week.
"Stoke manager Tony Pulis absolutely despised Arsenal boss Arsene Wenger, hated the way he played, while Wenger hated the way Stoke played," Kitson told The Sun.
"They were the direct opposite of each other in football terms.
"They used to have little snipes at each other in the media. All week I had never seen a manager so desperate to win a game of football, it was bordering on out of control.
"It started that sort of feeling where it began to bubble within the players through the course of the week.
"Until finally it got to match day. The changing room was full of aggression and I remember the team talk more than anything.
"But it just went too far. His desperation to beat Wenger and justify his way of playing football. It crossed the line and went too far.
"He was just desperate to win and some of the tackles we would put in — myself included because it was asked of you — were shocking really."
Kitson admits the incident was a turning point in his career as he didn't want to play for a side that he felt employed such aggressive tactics.
As a result the striker endured a difficult relationship with Pulis in the months after the incident, even being made to train with the youth team at one point, before being sold to Portsmouth that summer.
"It was just horrendous. I distinctly remember Wenger turning around in the technical area absolutely horrified by it," he added. "The first person he looked at when he turned around was me on the bench because I was in line with him.
"Even though it wasn't me who broke his leg, I was on that bench, part of that team. I didn't know where to look, I was totally embarrassed.
"Prior to that happening I was probably quite a tough footballer and a tough man. But, in that split second, Wenger gave me that look and I lost something inside of me.
"I thought there is more to life than this. This was not the reason I became a footballer and I really didn't want to be included in this or put my name to this.
"In that moment, I thought 'I don't want to be here, I don't want to play like this and I don't want to be a part of it'.
"I carried on for a bit after that but I just lost my stomach for it in the end. I would rather not be a footballer at all than have to play that way.
"It was always Tony's way or the highway. If you didn't do it, you didn't play and you didn't train with the first team."
Despite disagreeing with Pulis' approach, Kitson admits the Welshman deserves credit for what he achieved at Stoke, which included an FA Cup final and reaching the knockout stages of the Europa League.
The 38-year-old also concedes he could have handled the situation better and made his feelings clear at the time.
"In hindsight I should have sat down with Tony after that Arsenal game and told him I wasn't happy, but it wasn't really something you did," he said.
"If you look at Pulis, he was successful. Success for Stoke City was staying in the Premier League and he achieved it.
"Nobody can deny that. He knows how to win football matches. He finds a way to win, that's the mark of a good manager.
"It's just the way that he went about it, I didn't want to be a part of it."