Ola Toivonen
Toivonen: Swedish racists spurred the team on to World Cup success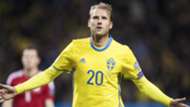 Swedish World Cup goalscorer Ola Toivonen has revealed the motivation gathered by his national team after the racist abuse directed toward team-mate Jimmy Durmaz in Russia.
Durmaz, who was born in Sweden to Assyrian parents, was targeted on social media by Swedish supporters after a conceding the free kick that resulted in Toni Kroos' winner in the 2-1 loss to Germany in Sochi - a game in which Toivonen found the back of the net.
Prior to their group-defining match against Mexico, the national team stood behind Durmaz as he publicly denounced the treatment he received on social media, and Toivonen revealed the abuse galvanized the team and helped produced their extraordinary win over the El Tri.
"My biggest [World Cup] memory is when Germany beat us 2-1 and one team-mate got a lot of racist abuse after the game," Toivonen said in his first press conference after joining Australian A-League side Melbourne Victory.
"We had a decisive game three or four days later against Mexico, we did a terrific game, we won 3-0 and advanced to the final 16. I think those four days will be in my memories for a long time.
"As a group we came together and did an amazing performance against Mexico."
The Swedes used the spirit mentioned by the 32-year-old forward to reach the World Cup quarter-finals, where their run was halted by a 2-0 defeat against England.
Toivonen, who has now retired from his national team, has spent his entire career in Europe, including lengthy stints at PSV and Toulouse, but was looking forward to the challenge in Australia after chatting to former team-mate Orlando Engelaar.
"[Engelaar] asked me if I was interested about [moving to Australia] and I was interested," Toivonen said of the retired Dutch veteran, who spent one season at A-League side Melbourne Heart.
"We didn't talk so much about [the quality of league], we talked more about the lifestyle in Australia.
"I've got a two year contract here and I'm really looking forward to the adventure.
"As I said in a lot of interviews, if I go on an adventure, I still want to win something so that was important for me and this situation was perfect."