Super League
Thiago has no grudge against Kedah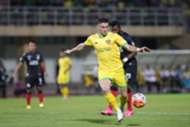 ---
BY        ZULHILMI ZAINAL       Follow on Twitter
---
According to recent Felda United returnee Thiago Augusto Fernandes, the decision to return to the club is an easy one to make, considering that he and his family are already comfortable in Malaysia.
The Brazilian forward recently rejoined the Fighters for a second stint as replacement for the underperforming Argentine Gastón Cellerino, having played for them from 2015 to 2016.
Just before the 2016 season kicked off, Thiago suffered a lengthy injury that sidelined him from then Felda United head coach Irfan Bakti Abu Salim's squad, although the Fighters still kept him under contract. 
But when the mid-season transfer window opened, Irfan decided against listing him in the competitions squad to avoid disrupting the already-established team dynamics, and loaned him out to Kedah.
Despite helping the Red Eagles lift the Malaysia Cup title at the end of the season, Thiago was not retained by either Kedah or Felda, and briefly rejoined his other former club; Manama in Bahrain.
"I feel comfortable here, so when I heard they (Felda United) were interested in my return, I talked with my family.
"...I like Malaysia also, and so does my family, we feel well here," revealed the 27-year old player.
When asked about his target following the return, he responded that he wants to work hard and help Felda in the second half of the season.
"God gave me another opportunity to work hard, I want to help the team with goals and assists, (so) I hope God will help us," answered Thiago.
Having worked under Irfan in his previous stint, Thiago said that he has no problems working with their current boss; Bhaskaran R Sathianathan.
"I like Irfan and he's doing a good job at Terengganu.
"(But) with this coach (Sathianathan) I feel good also. We've only trained for two or three days, but we've chatted and it went well.
"I hope I'll be able to work hard for him also, to help the team," he said.
Although he had not been retained by Kedah after the end of last season, Thiago said he harbours no ill-will against the club, brushing it off as part and parcel of football.
"Last year with Kedah was a very amazing experience, I enjoyed my time there, but they decided not to extend my contract.
"But this is football, you see. I hope Kedah do well, this is normal and I need to accept it.
"Thank God, now I'm here again at Felda and I'm happy," explained Thiago.
He was met by the press on Tuesday evening at the Malaysian FA headquarters in Kelana Jaya, after Felda United's friendly match against Malaysia U22 which ended in a 1-1 draw.