World Cup
"They are a real team" – Babangida wary of threat posed by Iceland
Shina Oludare & Pieter Stroink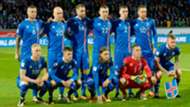 Tijani Babangida says Nigeria must be guarded when they come up against debutants Iceland in the second World Cup game, claiming the team "are well set together".
Gernot Rohr's men are in dire need of a win in the Group D clash on Friday evening, having bowed 2-0 to group leaders Croatia in their 2018 World Cup opening game in Kaliningrad.
Heimir Hallgrímsson's side has shown to be a dicey team so far in the championship following their 1-1 draw with Argentina, and they would be gunning for a result which would aid their qualification for the Round of 16.
However, the former Ajax winger counsels the three-time African champions to be cautious when they meet the Europeans – especially when it comes to setpieces.
"They don't really have the big names. They are a real team - I think you can't really single someone out," Babangida told Goal.
"They work altogether, they don't have like Messi at Argentina, Ronaldo at Portugal or a Modric at Croatia. Iceland are well set together.

"The problem with African teams is the set pieces. I think Nigeria are going to be more careful with set pieces.
" We know they are really good at it. But I think that is something the coach needs to take care off. The way I see it they are not going to play defensive, they are going to play attacking football with Iceland on the counter-attack."
Same direction, same goal for all #NGA players: a victory against Iceland at tomorrow's game 🤜🤛 Last training session in the Volgograd arena is looking good 👌#NGAISL pic.twitter.com/z6IPwjbOMw

— Annette Braun, FIFA (@FIFAWorldCupNGA) June 21, 2018
Rohr's formation backfired heavily against Croatia in their opening fixture, however, the 44-year-old offers the kind of formation the team should use to prevail.

"The 4-5-1 is really his (Rohr's) formation, he always uses a lot of players in the midfield," he continued.
"He is having a lot of problems with changing the system now. But that is what he has been playing since he came to Nigeria two years ago. 
"Well I were the coach, I would use the wings more often. It is going to be very busy from the center, so I use the wing. I'd go with 4-4-2 with wingers, but not 3-5-2 or 4-5-1."