Al Ittifaq v Al Wahda
The trivial disagreement overshadowing Saudi football
Middle East Correspondent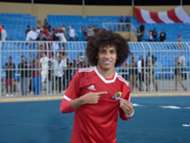 On Sunday, Makkah based Al-Wehda caused a major upset in Saudi's Mohammed Bin Salman league by defeating one of the big four of Saudi football – Al-Nassr. Eriterian striker Ahmed Abdoh Jaber netted a brace for Al-Wehda to make a comeback from a goal down to beat the giants. The win took the club to a surprising fourth position within the table behind Al-Hilal, Al-Nassr and Al-Ahli.
However, a different aspect of the game is splashing the Saudi football waters. Al-Nassr had filed a complaint regarding the participation of Ali Al-Nemer who replaced Waleed Bakshween in the 58th minute. The basis of the complaint centers on the registration of the Yemeni descent player within the Saudi Football Federation prior to the season.
The complaint issued by Al-Nassr officials backed by President Saud Al Suwailem has been accepted by the federation.
And it seems like there might be a legitimate case for Al-Nassr to file the dispute and question authorities on how Al-Nemer was registered.
If Al-Wehda completed the registration of the player as a Saudi professional (on the basis of Al-Nemer representing the Saudi national team) which means that he has obtained the Saudi nationality in accordance with the provisions of the FIFA Statute, Al-Nassr's claim will be rejected.
However, if Al-Nemer was registered as a 'player of foreign citizenship born in the Kingdom' the player would not be able to join the Saudi team, thereby resulting in Al-Nassr's dispute being accepted.
If the dispute is accepted, it will be due to the violation of the regulations within the Saudi Football Federation. In this case, the result would be reversed with Al-Nemer being issued a fine and suspended for two months.
As strange as it may seem, there is a legal case for Al-Nassr to pursue. As for Al-Nemer, he surely has the Saud nationality which means that the player has been recorded in the official international TMS system as a Saudi national with his participation within the national team also approved by FIFA.
Al-Wehda's Chairman Hatim Khaimi was confident on the club's dealings in regards to the players transfer from Al-Shabab. 
"Ali Al-Nemer is a Saudi player... and the player transferred from Al-Shabab and he was registered as a Saudi player and moved to Spain as a Saudi player," tweeted Mr. Khaimi.
Ali Al-Nemer was among the nine players who had been loaned to the Spanish club Numancia at the beginning of the year, where the player was registered as a Saudi and not a Yemeni player.