Australia
The Socceroos a shining light of Australian sport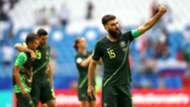 While disappointment has prevailed since the Socceroos World Cup exit, pride is another emotion that is inevitably felt when it comes to the Australian football team.
Though some may discount it as being content with a lack of success on the world stage, being proud of the Socceroos isn't an inhibitor to progress on the pitch and has been a remarkably synonymous part of following the side for many years.
In fact, with the Australian cricket team in disarray after a ball tampering scandal, the Boomers involved in one of the biggest basketball brawls in history and the Wallabies on their lowest ebb in decades - the Socceroos have remained a stable symbol of what Australian sporting sides should be about.
As other national teams slip up, the Socceroos have stood tall. 
With an undeniable fighting spirit, a remarkably clean cut image and players prepared to take on the world, they are a team that's defying the current sporting climate.
Scandal and Socceroos are just two words that don't and won't likely ever go together.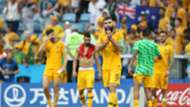 Even in football circles, the green and gold are sparkling.
While other nations struggle to defend diving and time wasting tactics, the Socceroos have remained upright.
Against France for example, they found a way to put their frustrations aside as the French went sprawling and deserved far more credit than their 2-1 loss ultimately got them. 
Though not getting the results they were after in Russia, the Socceroos conduct caught the eye with Mexico's coach Juan Carlos Osorio praising the side after a 1-1 draw with Denmark.
"I profoundly admire Australia as a country – what they do in order to recover their players and how they compete honestly and transparently," Osorio said.
"They are gentlemanly, they don't go into personal fights, they fight every single ball with all they've got."
Results can obviously improve and tactics become more sophisticated, but a team is more than just a final scoreline and the Socceroos have been shining on and off the pitch for some time.