Brazil v Paraguay
The Nordeste and Flamengo re-join the party - Brazil coach Tite winning friends and influencing people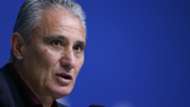 ---
COMMENT
---
When Tite replaced Dunga as coach of Brazil in June 2016, local supporters were well aware a major change was on the cards. 
However, few could have foreseen a run of six consecutive victories in World Cup qualifying with 17 goals scored and just one conceded.
Tite didn't make wholesale changes of personnel, with the bulk of his squad having been present under the former coach, but he completely transformed the identity of the side, both on and off the field. 
He had the team push up on the pitch, closing the gaps between the lines to offer a better avenues for passing, while off the pitch he retreated, ending a Dunga era that had been largely defined by conflict. 
Key to the transformation was signalling a change of mentality at the top, and the decision to hand returns to those who'd been banished was a move that ensured the message rang out loud and clear.
---
READ MORE: 
Official: Brazil to meet Argentina | BGT meets Tim Vickery | Official: Brazil to face Australia
---
Real Madrid left-back Marcelo had been absent for a year following a somewhat puzzling conflict with Dunga. PSG's Thiago Silva continued to be rated by many as the world's best central defender, yet hadn't been anywhere the Selecao since Copa America 2015.
The overdue return of the duo was a clear demonstration that there would be a clean slate for all.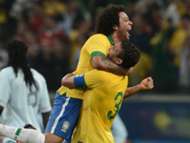 Another subtle yet important party line arrived in Tite's first press conference, when the former Corinthians coach talked up the value of football in the North-Eastern part of the country, a region where the game draws massive crowds yet has historically felt marginalised by the traditional powerhouses of Sao Paulo, Rio, Belo Horizonte and Porto Alegre.
Tite insisted that on his watch players from the Nordeste would be closely observed and that the coaching staff would be in communication with coaches from the region's top clubs.
This past week Sport Recife's Diego Souza was called into the squad to replace Gabriel Jesus for the upcoming qualifiers against Uruguay and Paraguay, becoming the first player from the Nordeste to be included in a World Cup qualifying squad since Leomar in 2001.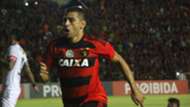 And then there was Flamengo, and Rio. Brazil's best-supported club, Fla hadn't had a full international since 2011. Under the previous regime, there were constant mutterings that Dunga had favoured players from the Sao Paulo region. 
Of the 21 domestic-based players called up under Dunga, Jefferson of Botafogo was the sole representative of a Rio-based club. Tite addressed this early, with Flamengo goalkeeper Alex Muralha drafted into his second squad, for qualifiers vs. Bolivia and Venezuela.
At 27-years-old, Muralha was still only really in his second season as a regular professional. He was in fine form and was fully deserving of his place among the 23, but that his inclusion pleased fans of the country's biggest club was of obvious importance. It also served as confirmation that Tite would be picking players on form, not reputation.
Muralha was left out of Tite's latest squad, but playmaker Diego has ensured Flamengo will still be represented this month. The former Juventus man is hoping to play his first full senior international since 2008, which would in turn see him become the first Flamengo player to participate in a qualifier since Adriano in 2009.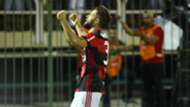 Tite has also sent a message that performances for the national team will be rewarded, regardless of where, or how, players may be performing for their clubs.
Goakeeper Alisson has barely seen any action since making a move to Roma in Serie A, yet his consistency for the Selecao has seen him retain his position for all six internationals.
The likes of Renato Augusto and Paulinho, meanwhile, remain established first-choice players despite suggestions they are not being regularly tested at the highest level for their respective Chinese clubs. If not for a suspension for Paulinho, both players have started every qualifier under Tite.
The coach has combated criticism that Asian-based players may not be at the requisite level of physical fitness by establishing a process which sees them report for international duty at least a couple of days early, when they undergo personal fitness training to ensure they are up to speed before joining the rest of the squad.
Tite has not only put together a highly competitive and hitherto successful squad during his nine months in charge, but also appears to be winning friends and influencing people in the highly politicised world of Brazilian football as a whole.
As Tim Vickery told Brasil Global Tour this week, the next test will arrive when the chips are down for the first time.
So far it's been all smooth-sailing, both on and off the pitch.