Juventus
The most loved player in football? Why everyone wants Buffon to finally win the Champions League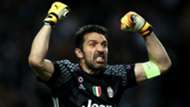 ---

COMMENT
---
While several of his Juventus team-mates were left ecstatic by eliminating Barcelona from the Champions League at Camp Nou last month, Gianluigi Buffon's celebrations were more reserved.
For the captain, it was nothing more than an important step on a road that he hopes will end with him lifting the trophy in Cardiff on June 3. Buffon knows better than most that sometimes the longer the journey, the more devastating the pain of defeat.
Monaco stars must learn from Martial
When the Italy international played in his first Champions League final, against AC Milan in 2003, he was disappointed but consoled himself with the thought that it was just the first of several opportunities to win the biggest prize in club football. However, he only made the tournament decider again 12 years later. Thus, Juve's 3-1 loss to Barcelona in Berlin hit him hard.
"Losing on penalties to Milan was very painful, but since I was only 25, I was fairly calm because I was convinced I'd win many more!" the 39-year-old told UEFA's official website this week. "That's the exuberance of youth...
"After the return leg against Barcelona this season I was very happy, of course, but I did not celebrate too much, because I know that after a certain point you either win the trophy or get disappointed.
"And since I have been disappointed so many times, I want to get the victory before allowing myself to celebrate!"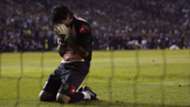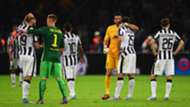 However, Buffon is on the verge of a third appearance in the final, with Juve 2-0 up going into the home leg of their last-four tie with Monaco in Turin on Tuesday.
There would arguably be no more popular winner in football. Indeed, there are few more popular figures within the game.
Mbappe's position not as strong as it seems
Indeed, Petr Cech spoke for many back in 2015 when he admitted that it is difficult for any neutral to remain on the fence when it comes to Buffon's dream of winning of the Champions League.
"Let the best team win," the Czech wrote on Twitter, "but I would love to see 'The Maestro' with the cup in hands."
For Cech, no other goalkeeper has had a bigger impact on him. "Oliver Kahn, Peter Schmeichel and Edwin van der Sar inspired me early in my career," he explained. "Each of them had something inspiring because they were all different characters.
"Then Buffon appeared and changed everything."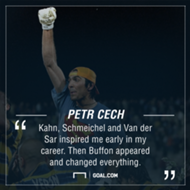 Iker Casillas also openly admits that he looked up to the Carrara native, while Manuel Neuer calls him his "role model". He is the No.1s' No.1 and continues to set the standard by which all other shot-stoppers are judged.
Indeed, it is fitting that, 16 years after his €53 million move from Parma to Juventus, Buffon remains the most expensive goalkeeper in the world - because he remains the best goalkeeper in the world. For example, it is now 621 minutes and counting since he last conceded a Champions League goal.
The 39-year-old's professionalism sets him apart. Andrea Pirlo once admitted that he just used to enjoy watching him train, while Francesco Toldo says the key to his former team-mate's remarkable longevity is a desire to learn that has never been sated, no matter how many titles he wins.
Buffon's popularity among his peers, though, goes beyond his admirable dedication to his craft. He may be a goalkeeping god, a footballing deity regularly referred to as 'San Gigi', but he is respected most for his humanity.
Last week, when he would have been forgiven for basking in the glory of a performance in Monte Carlo that Monaco boss Leonardo Jardim described as "incredible", Buffon was dismayed by the news that the road up to Superga, the scene of the plane crash which claimed the lives of the 'Grande Torino' team of the 1940s, had been desecrated with offensive graffiti.
He was horrified by the idea that a twisted Juve fan might have been responsible; that someone might have thought it acceptable to mock the club's city rivals ahead of the 68th anniversary of the disaster.
"Juve fans, allow me to be really proud of you because if we think about and really believe in what 'Lo stile Juve' ('The Juve style') represents, and the absolute values which characterise us, it's inconceivable to traduce and violate the feelings of those who have suffered and are still suffering," he wrote on his Facebook page.
"We do not insult affection, sentiments and memories.
"A hug to all of those who believe that even - and especially - in sports, it's necessary to be men of honour."
Genius Fabregas inspires Chelsea
Few players have done more to ensure that honour, sportsmanship and basic human decency remain a part of a game that has been so widely corrupted by avarice, cynicism and racism.
Buffon knows well just how brutal and unforgiving a place the world of football can be and it was unsurprising that it was he who had come to Alvaro Morata's aid when the Real Madrid striker was going through a particularly tough period during his time at Juve.
"All lads who aren't mature yet live various situations to the extreme," Buffon said. "They live with great joy or with great depression if things aren't going well.
"Alvaro had some negative thoughts in his last period at Juve. We talked about it a bit because I felt so sorry for him, he was a lad I really liked and I wanted to help him and give him reassurance.
"He deserved the help of a team-mate."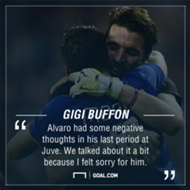 Morata has never forgotten it, bringing it up in a recent interview, and the pair could easily come face to face again in Wales next month.
Morata will obviously do everything he can to help Real Madrid defend their continental crown but, just like everyone else with a love of the beautiful game, the Spanish striker would hardly begrudge a first Champions League title to a man he sees as a father figure.
Buffon mused on Monday, "In sport and life, those who deserve it more probably end up getting their just rewards." It would be nice if one of football's good guys gets the reward he deserves in Cardiff.