Super League
Talking points from Selangor vs T-Team: New-look Selangor bolstered by fully-fit Andik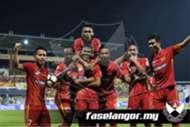 ---
BY        ZULHILMI ZAINAL       Follow on Twitter
---
Selangor recorded an emphatic 4-2 victory over T-Team in their week 14 Super League match on Saturday, with several changes made in the lineup by the Red Giants head coach Maniam Pachaiappan.
With the first half ending goalless, the home fans were right to worry that the encounter would end in another lacklustre draw, or even defeat. However, two quickfire goals each in the first and final 10 minutes of the second half guided the hosts to their first win since April 8.
Maniam not afraid of changing things around
Although the Selangor boss is sometimes criticised for not producing the best out of his charges, his dedication to tactical work is admirable. Against T-Team he showed that he is not averse to making radical changes.
With midfielder Abdul Halim Zainal suspended for his red card in the previous round, he filled the gap with veteran striker Amri Yahyah, who usually plays a little further up the pitch. And in utility man Adam Nor Azlin, he found a new defender, playing him in the left back position, after the Malaysia U22 international had been misfiring as a forward since the start of the season.
In the end, both men did well enough to justify their selection by Maniam. Amri and his partner in midfield Saiful Ridzuwan Selamat held the ball and stopped their counterparts on the visiting team from distributing the ball forward, while T-Team's first goal, and the move that led to T-Team's penalty second goal, came from the right wing.
If anything, the changes prove that the tactical-minded Maniam should be allowed to experiment with his tactics and formations more often, especially when the Red Giants are not aiming for any silverware this season, their supposed rebuilding season. That is if the fans who take any defeat in friendly matches as a cause to call for his sacking can be persuaded to be more patient.
Andik fully fit is a sure-fire hit
As he promised, Indonesian winger Andik Vermansyah used the mid-season Ramadan and Aidilfitri break to fully recover from his injury and achieve full fitness. And against T-Team, he wasted no time to remind everyone what he can do when he is in peak form.
From the get-go, he tormented the Titans' defence with his penetrating runs, opening acres of space for himself, young winger Syahmi Safari and attacking colleagues Rufino Segovia and Forkey Doe.
Rufino and Doe may need more time to work well alongside the Indonesian in Maniam's system, but their goals against T-Team proved that this can happen. Andik had a hand in both goals, making the assists leading to them.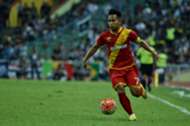 Andik Vermansah. Photo by Suhaimi Mohamad / CSN SportsTalk
Rufino and Doe have an option in Andik
Selangor's mid-season signing, Rufino Segovia, alongside Liberian forward Forkey Doe now do not have to shoulder the brunt of the attacking work with Andik's return to full fitness.
Against T-Team they lacked clinical finishing somewhat in the first half trying to take the ball past the defenders themselves, but in the second they both found the back of the net from near-identical situations. They both scored from headers, connecting with Andik's crosses.
It seems that trying to find space in the opponents' six-yard box while waiting for deliveries from the Indonesian is their surest bet from now on, but that must not be their only option.
After all they have eight more matches to play in July alone, and Andik can't be expected to play in all of them. When Andik is rested, the Spaniard and the Liberian must work together to create space and openings for each other, on top of ensuring that they end up on the scoresheet.
Syahmi must be retained at all costs
Youngster Syahmi Safari has been on the rise this season, playing with such maturity and reliability despite the fact he is only 19. On top of that, he has been a constant presence in the Red Giants' first eleven all season long, as well as a key member of Dato' Ong Kim Swee's Malaysia U22.
On Saturday, the winger added to his growing stature, by scoring his second goal for Selangor this season. He scored the first goal of the match in the 53rd minute, and his 84th minute volley from outside the box led to defender Kamal Azizi's own goal; the hosts' final goal of the evening.
If he can stay humble and maintain his workrate, Syahmi will surely be one of the best in the country. But on Selangor's part, they will have to do their part to make sure he stays with them, at least for a while longer.
Sure, the club officials have stated repeatedly that the youngsters promoted from their youth teams at the start of the season have been given five-year contracts, but the players will definitely not be able to decline more lucrative offers from other clubs for long, much like many former Selangor stars before them.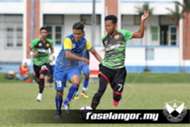 Syahmi Safari (right). Photo from FA Selangor Facebook
Defensive lapses could damage the good work
Many things went right for Selangor on Saturday, and that includes the fact that T-Team never really got into second gear that night. By the Titans head coach Rahmad Darmawan's own admission, his men were too static in their transition from attacking to defending, exposing them to the hosts' Andik-led counter-attacks.
Selangor unarguably were clinical with their chances, but it cannot be ignored that they still conceded two goals against a second-best T-Team. And both goals came through defensive lapses when they could have killed the game earlier.
Dilshod Sharofetdinov's 72nd minute goal happened when the Red Giants were already 2-0 in front, when the defence and goalkeeper Khairulazhan Khalid failed to deal with a short low cross from the left that then squeezed away from them into the path of the Uzbek midfielder.
And in the 89th minute, having cruised to a 4-1 lead, the Selangor defence's offside trap was beaten by a T-Team winger, who was then through on goal. Admittedly, a T-Team goal at the time would be slightly disappointing for the Red Giants, but not too damaging.
However, centre back Ugo Ukah made the decision to commit an open goal-scoring chance denying foul, and the referee pointed straight to the spot and booked him. A situation that could have ended with only a harmless goal conceded was instead also compounded by a booking to a key member of the squad.
If they are serious about making their third consecutive Malaysia Cup final match appearance, Maniam's defence must be more airtight. Better teams would have scored more than T-Team's two on Saturday, while not letting Selangor dominate possession as much as they did that evening.
Selangor vs T-Team match highlights