Super League
Syamer and Dominic back with JDT, Kiko confirmed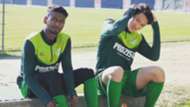 The reigning league champions became the first team to finalise their squad for the rest of the season as they look to maintain their place at the top of the Super League standings as well as retaining the Malaysia Cup later this year.
Currently leading Malaysia's top tier by five points to second place Perak, JDT wasted little time in identifying the weak spots in the team and the announcement by Martin Prest on their Facebook page showed just that.
"Dominic Tan and Syamer Kutty Abba will return to Johor Darul Ta'zim (JDT) after their on-loan contract with Portuguese club, Vilaverdense ends. They will come back and fill in the five empty player slots left by Nicolas Fernandez, Junior Eldstal, Amirulhadi, Darren Lok and Fazly Mazlan, who have been tasked to reinforce JDT II."
"Dominic and Syamer will be joined in JDT by three new players, Harry Novillo, Jorge Santos Silva and Kiko Insa," said Prest, the Sporting Director of JDT.
Dominic and Syamer had earlier in the year joined Vilaverdense on loan but spent majority of their time there only in training. They were however given game time in a recent match where both player got at least an hour of competitive club football.
It remains interesting to see how much both have grown in their game on their return. Of the two, Dominic looks likelier to get more game time with JDT considering the constant search by Raul Longhi for the perfect defence.
Another interesting signing is the one of Francisco 'Kiko' Insa Bohigues, the younger brother of JDT stalwart Ignacio 'Natxo' Insa Bohigues. The former had been playing for Bangkok Glass FC in the Thai League at the start of the year but was later released by the club.
Able to also play in midfield, Kiko is a viable option for JDT in the centre back role. This is the first time that the two brother are playing in the same team together professionally. 
JDT's next game will be a trip to the Klang Valley to face Selangor, whom they beat 2-0 when they faced each other just a week ago.