Super League
Lemos happy to stay with current squad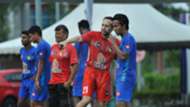 Languishing in the last place of the Super League standings, Negeri Sembilan faces an uphill battle to retain their place in the country's top division. Last Sunday's 1-2 defeat to Kedah meant that they go further adrift, five points away from safety.
It was Lemos' first game in charge of the team and while it was their seventh defeat of the 2018 campaign thus far, he would have been heartened to see the second half performance from his team where they managed to pull one goal back through Flavio Beck.
Despite the transfer window currently open, Lemos is showing his willingness to work with the cards that he has been given and is not looking to demand for new signings, he said in a video posted on Negeri Sembilan's official facebook page.
"Our first plan is to up the intensity of the training. We want to prepare the team for the next game. We have 10 days to prepare not only organise our team defensively but also to improve our attack to create chances."
"The first thing I told the players is no excuses. Same thing for me. I'm happy what I have. These are the players I have and these are the players I'm going to work with. I'm not going to complain, that's not my job. My job is to find solutions," said Lemos.
The immediate task for Lemos will be a tough one. It's a visit to reigning champions, Johor Darul Ta'zim who have won all five of their league matches played at Tan Sri Dato Hj Hassan Yunos Stadium this season.
Lemos will have his work cut out to ensure that the likes of Harry Novillo and Jorge Silva will not have much to celebrate on their home debuts.