Super League
Elavarasan has no problem with games during Ramadan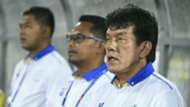 Having started off his second stint with Melaka on the right foot with an away draw to high-flying Perak last weekend, E. Elavarasan is looking for continuity in his team's progression.
The result edges them slightly ahead of the relegation zone and are now only one point away from eight spot that Selangor is currently occupying.
This season unlike last year, the league will still be continued during the fasting month where five rounds of matches will be played during that period.
"The players will have to be ready because their body metabolism will change when they fast. It will add to my job as the coach but we will be prepared."
"Shifting the matches to 10pm is a good move. It's too late to make any changes now. If matches are postponed, teams will surely be affected. Some teams are in a good momentum and they surely want to continue.
"If the matches are postponed, teams will have to rebuild that momentum, so there's more disadvantages than advantages," said Elavarasan in an interview posted on Football Malaysia. 
Ironically for Elavarasan, the next match for Melaka is against his former team PKNS FC. Both met each other on May 5 with his former side achieving an easy 2-0 victory at Shah Alam Stadium. 
More difficult away trips will follow that fixture at Hang Jebat Stadium on May 23, with a visit to Terengganu on May 26 and to Kedah on June 1.
A third away trip is on the cards with the visit to Kuala Lumpur on June 9 before the same two teams meet at Melaka just four days later.