AIFF Super Cup
Super Cup 2018: Gift Raikhan - I-League is bigger than ISL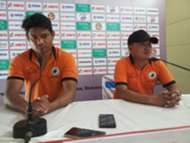 I-League runners-up NEROCA FC take on Indian Super League (ISL) side Kerala Blasters in the final round-of-16 clash of the Super Cup 2018 on Friday at the Kalinga Stadium, Bhubaneswar.
The Manipuri side, who made their debut in I-League this season, finished second behind Minerva Punjab and will hope to continue their fine form in the Super Cup as well.
Ahead of the clash, NEROCA coach Gift Raikhan said, "We are playing against Kerala Blasters. It is a good opportunity for a young team like NEROCA FC. Surely we will take this opportunity and try our level best. I-League teams are doing very good like Aizawl FC. NEROCA will also do well I hope."
When asked about the team's strategy against Kerala Blasters, the coach said, "I-League is a different project a different method, different style. We planned for 18 matches, home and away. But here it is knockout competition. We have to think about such a plan to hold Kerala Blasters.
"I should not talk about our strategies and plans now. They have top players like Wes Brown, Sandesh Jhingan. Football is a game of 11 players. We also have many good players. I have confidence in my squad."
Already two I-League teams, Aizawl FC and Shillong Lajong, from the north-east India region have qualified for the quarterfinals beating two ISL sides Chennaiyin FC and FC Pune City. Raikhan suggested that the pressure is now on him and his side to beat Kerala Blasters and join the other north-east teams in next round.
"Teams from north-east have done well so far. Aizawl and Shillong Lajong have qualified. I don't have pressure playing against Kerala Blasters but I am under pressure because the other teams from north-east have qualified. We also have to qualify," said the NEROCA coach.
On the battle between ISL and I-League teams, Gift Raikhan suggested that he considers the I-League to be a bigger competition as it has been around for a longer time. He said, "People think that ISL is bigger than I-League but I think I-League is bigger than ISL because it has been going around for such a long time. I-League is very important. I-League clubs wanted to prove that's why they are playing so well."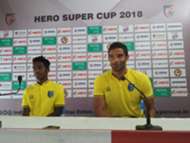 Kerala Blasters coach David James spoke about his team's season so far. He said, "A mixed bag season for the club but for myself I came halfway through the season. I was very happy with the team, their performance. It has been very positive from my point of view.
"We are playing against NEROCA, a side who have finished second in the I-League. We have seen from the very first round that the competition between the ISL and I-League sides have been very fierce. We are playing against one of the best teams from last season. We have obviously come here to win the championship so we have to win tomorrow."
James spoke about how the Indian players have improved from his first season in 2014 with Kerala Blasters. "I think I have to go back to my first season in India back in 2014. Since then the quality of Indian players has risen. The quality of ISL and I-League has risen. The group of young Indian players are playing really well. I am not surprised by that. I was looking forward to a chance to play against an I-League side. The ISL is very young but the I-League is an established league," said the former Liverpool goalkeeper.
The issue of extra time before penalty shootout has created quite a stir since Jamshedpur FC coach Steve Coppell mentioned that it was pointless to play an extra 30 minutes at this stage of the season where players are tired.
But James opined that he does not have a problem with any rules and he is happy to play under any circumstances. He said, "I don't have a problem (with the rules). The penalty shootout is the older format. Whatever the format is it is even for all teams. Just as long as we enjoy, the fans enjoy and we win I am ok."