Opinion
Super Clash: Can Hearts exploit Kotoko's weakness in Kumasi?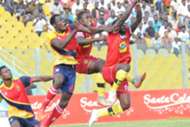 ---
COMMENT
---
It's little secret that Hearts of Oak will be facing a group of 'unfit' lads in Sunday's Super Clash against nemeses Asante Kotoko.
Following their fatal accident last month, the Porcupine Warriors are yet to take to the pitch in a competitive game, and with the Super Clash set to mark their return, there have been concerns over the quality of opposition awaiting the Phobians.
"The players are okay to play on Sunday, except Ollenu [Ashitey] and [Michael] Akuffo," said Kotoko's head of medical team Michael Leat at a presser on Tuesday.
"Baba Mahama will be ready on Sunday, he's fit to play. I won't force any player to play when he's not fit, they are okay," he added. "That's why we decided to play on Sunday."
Leat's statement was emphatic as it could be, but the news is also as positive as it is concerning.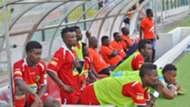 The accident, as it were, resulted in one dead team official, a collection of injured players and traumatised an entire team.
There's little surprise that some argue the team are returning too soon.
Winger Emmanuel Gyamfi has also been ruled out due to an injury picked up on international duty, and to make matters worse, impotent coach Steven Polack (below) could only tell journalists that "doctors will decide whether he should be on the bench or not."
Kotoko may attempt to bulldoze everyone into believing they are up for this game, when indeed they're not, but will struggle to find just one reason to convince anyone of their match fitness, having last played a competitive game on July 12.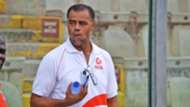 Are Hearts in a position to take advantage of these problems?
Early last month, Frank Nuttall's heavyweights succumbed to their arch-rivals on penalties in the President's Cup.
In every way, the anguish in that defeat was not as much about having watched a cup slip through their fingers, as to the identity of their vanquishers.
Hearts fans, then, must be delighted by the prompt opportunity to reclaim the bragging rights in what will be the 106th league meeting between the two sides.
Having already faced the Porcupine Warriors, coach Nuttall will be well aware of what to expect. There have been questions about his tactical prowess – his flexibility, positioning of players and reaction to game situations.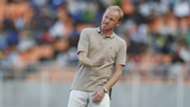 Kotoko's Polack, on the other hand, has been hailed for his side's second-round renaissance following their faltering start to the championship.
The Englishman may be relatively new to the Kotoko job, but not in any way to Hearts, having had stints with local sides Berekum Chelsea and King Faisal Babes.
For many, the Super Clash has always come down to a tactical battle, and this leaves the Phobians with a lot to ponder ahead of the showdown.
Nuttall aside, there's equally as much responsibility on Hearts' playing body.
Winger Patrick Razak was expected to be their talisman this season, but try as he can, his brilliance has only been seen in flashes, while Samudeen Ibrahim has failed to live up to the hype that accompanied his early days in the rainbow colours.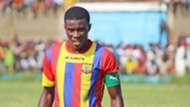 Malik Akowuah has been disappointing by his own standards, and Winful Cobbinah has failed to consistently influence games as much as the Phobian fans would want him, even if he remains one of Hearts' best players this season.
However, while they may have flattered to deceive, there are other unsung players who have taken the chance to announce their presence.
Captain Thomas Abbey (above) was expected to provide inspiration on the pitch, but no one ever envisaged him becoming the league's joint-top scorer on 12 goals after matchday 24.
The impact of centre-back Vincent Atinga cannot go unmentioned either.
On their last league visit to Kumasi, Razak netted on 51 minutes to snatch a 1-1 draw at the Baba Yara Stadium.
With just one away defeat to Kotoko since 2006, the Phobians had every reason to believe they could have got more from last season's game.
Indeed, Hearts-Kotoko clashes have never really been decided by form, injury situation or any pre-match talk.
But truth be told, the Phobians, this one time, will not be wrong to hold lofty hopes in Ghana's Clasico.