Sunshine Stars
Sunshine Stars' Udi demands fair officiating against Akwa United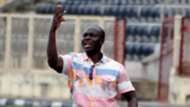 Sunshine Stars coach Duke Udi demands for good officiating as his side square up against Akwa United for a place in this year's Federation Cup final.
Despite the Owena Whales' 1-0 lead from the first leg over their hosts, the tactician believes fair officiating against Abdu Maikaba's men in Uyo will help their cause.
"I keep reminding my boys that we have come too far for us to go back," Udi told media.
"As I always say, our team have done very well, especially when playing away from home. We have done fantastically well in our away games winning three of our previous away games.
"Everyone will see a good and competitive game in Uyo if we get a good officiating here like we had [in Ijebu Ode] . If they beat me here, I don't care so far the officiating is fair for both teams. We know Akwa United are a quality side but we also play good football and we are ready to fight.
"All we want is good officiating like the one we both enjoyed in the first leg. The referees are doing very well and we need to encourage them but like Olivier Twist, we want more. Football is nowhere without good officiating."