Transfers
Sundowns attacker Percy Tau attracts interest from English Premier League clubs
South Africa Chief Editor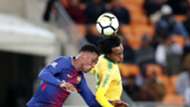 Mamelodi Sundowns attacker Percy Tau has attracted interest from all Europe's top five leagues, that's according to coach Pitso Mosimane. 
The 24-year-old, who walked away with three top accolades at the PSL awards on Tuesday night, enjoyed a successful campaign with the Brazilians, scoring 13 goals and registering 17 assists in the processs. 
According to Mosimane, it would be best for Tau to move to a bigger league if and when he leaves Sundowns. 
The Sundowns tactician confirmed that there have already been discussions with several clubs over the possible sale of Tau on the off-season.   
"Percy... it's going to be difficult for us [to retain his services]. Premier League teams [want him] now," Mosimane told reporters on Tuesday. 
"We've been talking about top five leagues for him' not to go to Denmark or Sweden. What is he going to do there?" he asked. 
Mosimane said Tau's performances this past season helped him a lot, before mentioning that the Barcelona match which was playesd two weeks ago at the FNB Stadium, did him a world of good. 
"Basically for what he has done for the year and also the Barcelona game has given him the opportunity," Mosimane said. 
Asked if Tau is ready to play abroad, the 53-year-old mentor gave the PSL Footballer of the Year his blessing, adding that he would like to see him play in the English Premier League. 
South Africa has not had representatives in the Premier League since the return of Steven Pienaar, who has since retired from professional football. 
Mosimane said the only platform to judge if Tau is the real deal will be when he's among the players in Europe. 
"My opinion? I think he must go guys. Let's have a player in the EPL we've got nobody now. He has done well for us what else can he do for us? You know let's see him abroad week in and week out and let's judge him there if he is the real deal or not. So let him go'" said Mosimane," he added. 
Meanwhile, despite Mosimane's desire to see Tau ply his trade in the English Premier League, acquiring a visa could be a stumbling for the Witbank-born star as he hasn't played too many international matches for South Africa.