Videos
VIDEO: Studs Up is back for episode 11!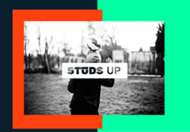 Studs Up is back!
This week Nathan, Rory and Rachel look ahead to the crunch Premier League showdown between Arsenal and Manchester United, which takes place at the Emirates on Sunday.
Joining the guys on the show is comedian Lloyd Griffith, who reveals what it's like to interview Premier League stars in a car on their way to training.
What team will finish in the top four and who will end up on the wall of shame? Find out by watching the show!
Studs Up airs every Thursday at 8pm (GMT) on Facebook. Join us in taking a lighter look at the world of football!
To make sure you don't miss the show, register your interest on Facebook and we'll let you know when Studs Up is going live.