African All Stars
'Strong' Wilfried Bony pleased to complete Bournemouth tie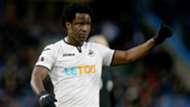 Wilfried Bony has said he was pleased and 'felt strong' after completing 90 minutes in Swansea City's stalemate against Bournemouth.
The striker has had injuries and a dip in form restrict his playing time, but in the 0-0 draw against Eddie Howe's men on Saturday he showed strength and flashes of his class.
The 28-year-old got a goal for Paul Clement's side, only to be cancelled after Ghana's Jordan Ayew appeared to have fouled an opponent.
"I was pleased to play the full 90 minutes. It was difficult out there. I got cramp after an hour but I kept fighting," Bony told club website.
The striker who last saw out the entire duration of a league encounter in September 2016 spoke of his desire to open his goal account for the Swans - since his return from Manchester City in the summer - in their next game against Chelsea.
"I felt strong. I hope to be better in the next game and to get my first goal of the season," he continued.
"It was a big game on Saturday, so I knew I had to do my best. I did my best to push the team.
"We did not get the win, but I think the performance was good. We want to build on this for the next game."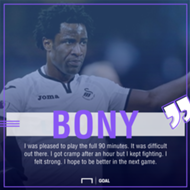 With first-choice striker Tammy Abraham recovering in time for a substitute appearance against Eddie Howe's men, Bony will hope he has done enough to convince Paul Clement for a starting spot ahead of the influential youngster as he eyes a second English top-flight start this season when they visit the Stamford Bridge on Wednesday.
Swansea are unmoved from the 19th spot, having garnered only nine points from 13 league ties.