Transfers
Stoichkov and Batistuta interested in Cape Town City job
Yusuf Variava and Sacha Pisani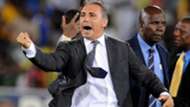 Following the departure of Cape Town City coach Eric Tinkler, the search is on for a new man to take over at the helm of one of the Premier Soccer league (PSL)'s most ambitious clubs.
While it was previously revealed that the likes of Benni McCarthy and Ruud Krol were the frontrunners for the job, it is now believed that several other high profile coaches have been added to the list of possible candidates.
According to the latest reports, Argentine Legend Gabriel Batistuta and Hristo Stoichkov are just some of the potential candidates at City boss John Comitis' disposal.
Other coaches' names which have also been bandied about are that of Chris O'Loughlin, Jean-Michel Cavalli, Kosta Papic, Claudio Gentile and Ashley Westwood, who have all submitted their CV's to the club.
Although, speculation is rife on the identity of the new coach, City confirmed in a statement yesterday that a new coach has already been identified and an announcement is expected to be made in the next seven days.
Furthermore, Comitis had also told The Times that he has 'potentially found a gem'.
Meanwhile, last month Gabriel Batistuta was reportedly offered to coach Adelaide United in the Australian A-League next season.
Adelaide chief executive Grant Mayer confirmed Batistuta was the club's prime target to replace Guillermo Amor.
Amor guided Adelaide to their first A-League title in 2015-16 but he oversaw a disappointing championship defence as the Reds finished ninth in the 10-team league last season.
"We can't sit on our hands," Mayer told News Limited.
"We're chasing a suitable replacement after Guillermo Amor, [who] has all the respect and goes out on his own terms.
"With Batistuta an offer has been made but there is also a Plan A, B and C."
Batistuta – who moved to Perth in Australia after retiring in 2005 – was one of the most prolific strikers in football during the 1990s, scoring more than 200 goals for Fiorentina.
He also scored 54 goals for Argentina, before Lionel Messi broke his international record last year.