UEFA Europa League
Stockholm Showdown: WIN the chance to play on the Europa League final pitch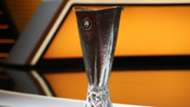 Team Larsson or Team Ljungberg? You decide!
UEFA is inviting football fans to win the chance to play on the Friends Arena pitch, the day after the Stockholm stadium hosts the Europa League Final. 
Coached by Henrik Larsson and Freddie Ljungberg, two teams will contest the Stockholm Showdown the day after the winner of the 2016/17 UEFA Europa League is determined.  
The competition prize also includes an all-expenses paid VIP trip to watch the UEFA Europa League final on 24th May. 
"It's always nice to create these opportunities for football fans to experience," said Larsson.
Ljungberg added: "What could be better than watching the final, then getting your boots on in the same dressing room the next day and walking out onto the same pitch?
"It's a great idea from UEFA, and a competition I'm proud to be involved in."
Click here to enter