Kaizer Chiefs
Steve Komphela left to rue Kaizer Chiefs' missed chances against Mamelodi Sundowns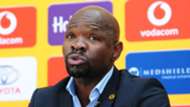 Kaizer Chiefs coach Steve Komphela was left to rue his side's missed chances against Mamelodi Sundowns on Saturday night.
The two Gauteng giants played to a goalless draw in an entertaining PSL match which was played at the iconic FNB Stadium in Johannesburg.
"We tried to be positive. The only way to give the best of what we have in SA football is to go at each other," Komphela told the media after the game.
"Sitting there and thinking about losing the ball, you're going to suffer because they can go direct or diagonal with (Tebogo) Langerman any given time," he continued.
"But I thought it was positive and I am happy with the players."
Willard Katsande had a chance to snatch a late winning goal for Chiefs in the closing stages of the game, but he failed to beat Sundowns goalkeeper Denis Onyango.
"I thought it was a good game with good energy and compliments must be given to both sets of supporters for their support. I thought the players from both teams showed up," he added.
"I thought the header from Katsande would have changed things, but we also felt their threats at the other end. Compliments must be given to our defensive and offensive players," he explained.
"On the other side, their defence withstood the pressure. We tried to break it but it was a stalemate. Matches of this nature are determined by set-plays, and I thought there weren't many of that in my opinion," Komphela explained.
"We avoided having too many set-plays around our box because we know how dangerous they are, but we also tried to utilize ours. All of our subs were positive from our side," he concluded.
Amakhosi will now travel to the Bidvest Stadium where they are scheduled to face the defending league champions Bidvest Wits on Saturday.