Kaizer Chiefs
Steve Komphela defends decision to bench Castro and Ntshangase at Kaizer Chiefs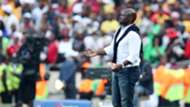 Kaizer Chiefs head coach Steve Komphela has defended his decision to leave both Leonardo Castro and Siphelele Ntshangase on the bench against Bidvest Wits. 
Castro and Ntshangase were bought from Mamelodi Sundowns and Baroka FC respectively, but they are yet to make their full debuts for Amakhosi. 
While Komphela admits that the two attackers changed the complexion of the game as soon as they came in against the Students this past weekend, he admits that it is still difficult for him to drop some of his tried and tested players in order to accommodate the duo. 
"You are always tempted to start with Castro and Ntshangase, but then again if you start Castro, do you put Moon outside, who scored [against Wits]? Do you start with Ntshangase and leave Shabba outside? That's another dynamic," Komphela told the media. 
"Castro and Ntshangase's contributions are very clear. They are there and can even play more minutes than when they arrived, but then again, do you play two number 10's - Shabba and Ntshangase then sacrifice one striker? It's another thing," he said. 
Komphela admits that Chiefs created enough goalscoring chances to bury Wits on Saturday, and he was left disappointed by his team's inability to covert those chances into goals. 
"There were two chances, Ntshangase and Castro where we could have had the winner. Even Jayiya scored, he was in an onside position. I don't know what happened there with Ntshangase," added Komphela. 
Furthermore, the Amakhosi mentor said Gustavo Paez just needs his confidence back by scoring goals, but he wants the team to help the South American striker by playing to his strength. 
"It's all about confidence for Paez. We need to give him confidence by giving him service, playing to his strength. The fact that we have paired him with Moon should give him confidence, but the biggest confidence will come from him, by scoring goals," Komphela said.