Raheem Sterling
Sterling's new deal played a part in Guardiola's showboat rant, claims former Man City star Mills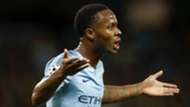 Raheem Sterling's new Manchester City contract is partly responsible for Pep Guardiola's rant at the England international after a derby victory over Manchester United, claims Danny Mills.
The 23-year-old forward was given another 90-minute run out by his boss in a crunch clash at the Etihad Stadium on Sunday.
In-form Sterling impressed again during a 3-1 victory for City over their arch-rivals, but sparked unnecessary scenes towards the end as he goaded the frustrated Red Devils.
Guardiola was disappointed with the late showboating and made a point of getting that message across as his players left the field.
Former City defender Mills was not surprised to see the Catalan take action, with more expected of his side and a player recently handed a lucrative new deal through to 2023.
"It was different in my day. He might end up in the back of the stands," Mills told Sky Sports of Sterling.
"[Marouane] Fellaini doesn't get particularly close to him. [Alexis] Sanchez doesn't really get that close to him. They don't try and take the ball.
"I think there's two things. One, Pep likes to keep the ball moving. That's the way he plays. That's his philosophy.
"Secondly, Sterling has just signed a new contract. Big bumper deal that Pep has been a big part of.
"Is this just a little reminder of - OK, you've got this deal, but don't get too big for your boots just yet?"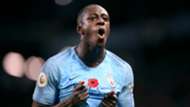 While questioning Sterling's antics, Mills believes that City as a collective are once again showing the rest of the Premier League that they are the team to beat, with improvements being made to a record-breaking title triumph in 2017-18.
He added: "I think they have learned and developed. Last season it was 'we are going to play this way no matter what'. All-out attack, pass, pass, pass, and they came unstuck against Liverpool.
"We've already seen this season that Pep has just changed it slightly against some of those big teams and been a little bit more guarded at times.
"[Benjamin] Mendy's come in at left-back, which I think has added to them defensively. Kyle Walker doesn't have to go as far forward down the right-hand side, he can tuck in and be a bit more defensive.
"[Aymeric] Laporte is looking very, very good defensively so I think they've developed slightly. In those bigger games they now have the nous and knowhow of how to win a game and grind it out at times which is what they will have to do."