Manchester City
Sterling & City left stewing after throwing away two points at Burnley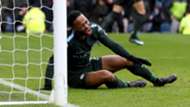 It's a good job Manchester City have got three days off now. 
Raheem Sterling says his team-mates shouldn't speak to him when he misses a chance and it will be his missed sitter which will be seen as the turning point as the Blues dropped points at Burnley on Saturday afternoon.
The 1-1 scoreline does not tell the full picture of a game City dominated but when you let as many chances go begging as Pep Guardiola's side did, you are asking for trouble.
Sterling was not the only guilty party for the Blues but whereas the likes of Kevin De Bruyne, Ilkay Gundogan and Sergio Aguero were culpable of poor decision-making in the final third, the England man was presented with a tap-in at the far post that he somehow contrived to put it wide from a matter of yards out.
That did not exactly hand Burnley the initiative, given City continued to work the ball into dangerous areas, but it did offer them, and the Turf Moor crowd, some encouragement.
And with Sean Dyche's side – led by two target men up front – happy to resort to getting the ball from back to front as often and as quickly as possible, a little encouragement goes a long way.
Ederson showed he is just as impressive with his hands as he is with his feet by producing a world-class save from Aaron Lennon, as the hosts sensed their opportunity, but the Brazilian could do nothing as Johann Berg Gudmundsson stole in round the back to fire home from close range with just eight minutes to go.
As much as Guardiola values performances and intentions from both players and managers, he will no doubt be bitterly disappointed at his team's failure to come away with what would have been three deserved points. 
This, after all, was the first time since April of last year that his City side have failed to win a game in which they have taken the lead. Admittedly, they created plenty of presentable opportunities after Danilo's long-range opener, but were unusually sloppy at the vital moment.
It may not matter a great deal in the grand scheme of things, given City cannot end the day any worse than 13 points clear at the top of the Premier League table, but the result will sting all the same.
And for nobody more so than Sterling. He and his 19 goals have played a major role in City's fine season but he himself admitted in an interview on Friday that he is more critical of his misses than anybody else.
"I've missed so many chances," he told Talk Sport. "I try to improve on it every day. I want to get better and help win crucial matches. If i miss a chance, don't speak to me. I'm a bit too harsh on myself, that's how I am and that's how I always will be - in order to get better."
He sank to his knees and pounded the turf after prodding Kyle Walker's low cross wide, and he did not have much time to make amends given he was substituted shortly afterwards. 
With 18-year-old Brahim Diaz taking his place, City's recent spate of injuries suddenly became apparent. Benjamin Mendy, Fabian Delph, John Stones, David Silva, Leroy Sane and Gabriel Jesus were all unavailable for selection here and had Guardiola had just one of Silva, Sane or Jesus fit he would have been confident of seeing out the game regardless, or at least striking again to make it 2-1.
Throw in the fact that many of these players completed 90 minutes on Wednesday evening and it is especially understandable why they looked so short of both ideas and energy late on.
But had they taken their chances earlier, it wouldn't have mattered.
City's players do not have to report for duty until Wednesday and they have been told to "forget a little bit about football" by Guardiola. But the Catalan and his players will have some regrets on their mind as they stew on a rare low point.