WTF
Stars wish Neymar and Ronaldo a happy birthday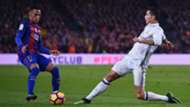 For two of the biggest stars in the game, Sunday is a special day. Neymar celebrates his 25th birthday, while the cancelation of Real Madrid's fixture against Celta Vigo has allowed Cristiano Ronaldo time off to celebrate his 32nd birthday.
Unsurprisingly, social media has been awash with well wishers for the pair, who are a couple of the game's most recognisable faces.
¡Felicidades bicho! Por más cumpleaños juntos de blanco. @Cristiano pic.twitter.com/Ro6e7zPf2f

— Sergio Ramos (@SergioRamos) February 5, 2017
Entreno terminado y sumando buenas sensaciones! Hoy toca felicitar a @neymarjr! Grande crack!!!!! pic.twitter.com/2xvn6WCDEp

— Andrés Iniesta (@andresiniesta8) February 5, 2017
Happy birthday @neymarjr!! Already 25!! Enjoy! I was also there a few days ago and now you make fun of my 30s! hahaha pic.twitter.com/WDhESSEdhM

— Luis Suarez (@LuisSuarez9) February 5, 2017
Happy birthday brother! Feliz cumpleaños! @neymarjr pic.twitter.com/PhLiMmVDtb

— Arda Turan (@ArdaTuran) February 5, 2017
While Neymar thanked his fans for their support, Ronaldo simply posted a picture of himself on a plane - so he's obviously having a tough day!
A photo posted by Cristiano Ronaldo (@cristiano) on Feb 5, 2017 at 8:28am PST
Muito obrigado a todos, família, amigos e fãs !
Vocês me fizeram chorar... https://t.co/r97RU5DmIc

— Neymar Jr (@neymarjr) February 5, 2017
The pair are currently locked in a battle to win La Liga, with Ronaldo's Madrid side boast a one-point advantage with two matches in hand.