CAF U20 Women's Championship
South Africa proved no match for Nigeria, says Rasheedat Ajibade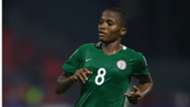 Nigeria U20 women striker Rasheedat Ajibade says her side were the superior side after they thrashed South Africa 6-0 at the Samuel Ogbemudia Stadium on Saturday.
Gift Monday, Ajibade and Anam Imo grabbed a brace each as Christopher Danjuma's ladies decimated Basetsana 8-0 on aggregate to qualify for the 2018 Fifa U20 Women's World Cup.
The FC Robo star said that her side showed they were better than Maude Khumalo's side in terms of quality and is pleased to lead the country to France 2018 finals.
"I'm feeling great and excited for the victory over South Africa and very delighted helping my team qualify for the World Cup," Ajibade told Goal.
"I think South Africa were a good side. If they are not good enough, I don't think they would have reached this stage of the qualifying series. The only difference was that we were better.
"South Africa has good players from defence to attack. But I must say that the standard was just different. We had really prepared well for them and needed to prove we were no match for them because of the quality of training and instructions from the coaches.
"We have a good technical crew with their experience and exposure. They prepared us well and analyzed the clips of the South African team many times. The matches they lost away against Burundi and friendly against Ghana. The coaches gave us a game plan which we went to the pitch to execute. That was the reason we won.
On finishing joint-scorer in the qualifier with 10 goals, Ajibade admitted she set a 15-goal target but is still delighted reaching a double-digit, while pledging to do better at the World Cup.
"For me, scoring goals is divine because sometimes it is not the best players that get to score goals. It is also not the kind of effort you put in that make you score. One could be fortunate to always be in the right position to score and while other times one could see clear opportunities and play those over the crossbar.
"So, that why I believe scoring is divine. I thank God for putting me at the right place at the right time to score and giving me the right technique to execute well."