Paul Pogba
'Sometimes I just need to kick the ball' – Pogba admits fault in Everton goal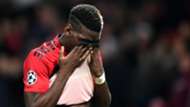 Manchester United midfielder Paul Pogba has admitted his culpability for the goal that Everton scored in Sunday's Premier League meeting between the teams. 
The France midfielder had scored the opening goal in the game, converting the rebound to his own saved penalty, before Anthony Martial doubled their lead in the second half.
United, though, were made to survive a nervy finish after the Toffees scored a penalty of their own via Gylfi Sigurdsson, but they held out to win 2-1.
Pogba was in part culpable for the concession of the spot-kick, having given possession away under pressure by trying an extravagant flick in a dangerous area.
Speaking after the game, the France international admitted that he was in the wrong and that sometimes he needs to be more pragmatic in his approach.
"I don't like to kick the ball away, but sometimes you just have to clear the ball and push up the field," he said. "I always try to improve, I always try to play and find a solution because I think we have the ability to play. But sometimes it's true that I have to clear the ball and just relieve the pressure on the team."
Previously, Pogba had drawn criticism for his penalty run up, which saw him approach the ball with a number of stuttering, small steps, before he delivered a kick to Jordan Pickford's right, which the England goalkeeper stopped.
Manager Jose Mourinho, who has criticised the player in the past this season, on this occasion took to the 25-year-old's defence, arguing that he likes to see players be brave and stating that he has no interest in "Mickey Mouse" players who shirk responsibility in such situations. 
Pogba, meanwhile, admitted he could change his approach.
"For sure I was lucky," Pogba told Sky Sports. "But the most important thing is the goal went in. It was good for us and good for me.
"I always try to destabilise the goalkeeper and I always shoot like this. That's how I know to take penalties.
"I might have to start to change it because maybe the goalkeepers start to know my steps."
United are up to eighth in the table but remain five points off the Champions League spots.