Singapore
Singapore Football Association unveils all-new Nike national team kits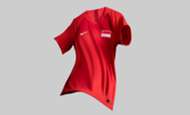 The Singapore Football Association (SFA), has unveiled two different jerseys for the national team. Designed by Nike, the 2018 kits represent some of Singapore's most famous features (past, present and future).  
Widely regarded as one of Asia's oldest football associations, Singapore's new home and away Maillots are rooted in the country's history.
Amongst the all-important Singapore national flag woven onto the chest, the jerseys contain three vastly significant elements that herald the nation's folklore.
The Merlion, a mythical water-spewing half lion, half fish has been a Singaporean national symbol since 1964. The Gym Red graphic across the chest of the Speed Red home shirt is derived from the Merlion's scales.
Since 1959, the Singaporean national flag has been portrayed as one having a White Crescent Moon, signifying the rise of a new nation, alongside five stars that signify the idealistic virtues of being a Singaporean - peace, progress, justice, equality and democracy – all borne on a red background. This is also called the Stellar symbolism.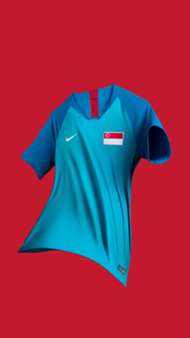 Similarly, the jersey's Red Neck Collar has been inspired by the flag, with the symbols appearing on the red neck tape of both the home and away jerseys.
Finally, the Singaporean Jersey also seeks to tell a tale of Singaporean liberalization and Globalization since its independence from Malaysia in 1965. The country has quickly established itself as a global financial hub, boasting one of the most highly developed market economies in the world. This success has allowed Singapore to heavily invest in an array of modern developments and state-of-the-art sporting facilities, including the national stadium located in Kallang that hosts all the national team's games.
Equator Blue body and Nebula Blue sleeves and shoulders of the away kit are thus inspired by the soaring skyscrapers that reflect the Oceans water at night to become something dazzling.
The final design is referred to as the Gleaming modernism of Singapore.