Liverpool
Shots fired! Klopp tears into Mourinho's Man Utd tactics in Liverpool stalemate
Jurgen Klopp has slammed Jose Mourinho's tactics during Manchester United's 0-0 draw with Liverpool on Saturday.
United took a somewhat pessimistic approach into the game, with striker Romelu Lukaku touching the ball just 22 times during the dour stalemate.
Liverpool had 19 shots during the game, and appeared dominant at times, but were unable to find a way past goalkeeper David de Gea.
The Spain international made a terrific save from defender Joel Matip in the first half, somehow deflecting the ball away with his leg.
And Klopp expressed his frustrations after the encounter.
"For sure you could not play this way at Liverpool, but it's OK for Manchester United," he told Sky Sports.
"Manchester United came here for a point and got it. We wanted three points and didn't get it."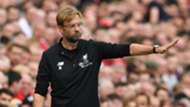 Liverpool have now drawn their last three games in all competitions, but Klopp is confident his side will show their quality over the coming weeks.
"So far we've only lost one Premier League game. Everyone can see we're not far off Manchester United. I thought the boys did well," he added.
"We have to think about our performance and our situation after this game it's not worse. We wanted to win, everyone could see that.
"There were a lot of brilliant individual performances for us in a very difficult game.
"We need to continue working really hard and at one point it will happen for us. We need a little bit of luck."