Xherdan Shaqiri
Shaqiri compared to Messi as his former boss challenges him to be Liverpool's best player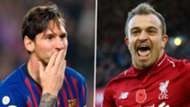 Xherdan Shaqiri boasts natural ability comparable to Lionel Messi and he should aim to be Liverpool's best player, says his former Basel boss Thorsten Fink.
The Swiss star has come a long way from humble beginnings in his homeland, with Champions League success enjoyed at Bayern Munich.
He also graced the books at Inter and Stoke before linking up with Liverpool over the summer for £13 million ($17m) .
Shaqiri is starting to produce his match-altering best on a regular basis for the Reds , with his qualities considered to place him in a talent bracket alongside the very best in the business.
Fink told ESPN FC of a man who has netted twice in his last three appearances : "Cristiano Ronaldo, he worked for what he achieved. But Messi, he had it.
"He didn't have to work for this talent. Ronaldo must work for this - work with this body, work with everything. For me, Messi has this talent. That's also for Shaqiri.
"He has this talent to play. If he works very professionally, he can be the best player for Liverpool - not only a player.
"Every time the aim must to be better and make the next step. If you play for Liverpool not every week, it cannot be enough for him. His aim must be to play every week."
Fink managed Shaqiri as a teenager at Basel and helped to turn him from a promising full-back into the devastating winger he is today.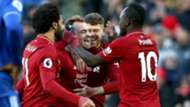 "He's smart and it was a pleasure to work with him," said a man now in charge of Grasshoppers.
"He played very well as a left-back. I thought he was the best left-back I saw after Roberto Carlos. But every time his aim was to play forward.
"He was very creative. He did things what you were not aware [he could do]. Sometimes he plays passes in deep, he shoots very well. He could cross very well, his ball control was very good. He had everything what you need for a perfect player. He was explosive.
"My aim was for him to be more professional. He was professional, but there were small things what I wanted to give the player on his way to be one of the best players, to play for Liverpool or Bayern Munich.
"With his possibilities, it's not enough to play for Stoke. He can play for the biggest club in the world because of the talent he has. That's what I wanted.
"In this time I had him, we were like twins because I know what he thinks, I know what he wanted to do. But he also gave me everything what I wanted. When I say: 'You play left-back', he played there fantastic. When he played in the offense on the right side, he played fantastic.
"Everything [is there] for the perfect footballer. The only thing is: 'Can you make the next step, Xherdan?'. If you want to play for Liverpool or Real Madrid, Bayern Munich or Man United, and you want to play every time - not just be the man who sits on the bench - you need more professionalism.
"Now he had it, what I heard, and it's important that he had a good coach and looked to him."