Super League
Selva lambasts atrocious Melaka performance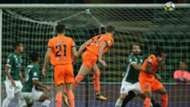 The 2-0 reverse at the hands of PKNS FC was Melaka's sixth defeat of the 2018 Super League season and with only three wins thus far, they are hovering precariously close to the relegation zone.
Rafael Ramazotti and Safee Sali scored the goals that sent Melaka to their fourth successive defeat in the league and it was an all-around bad day at the office for the Mousedeers.
With Eduardo Almeida taken off the hot seat, G. Selvamohan was given temporary charge of the team and he was left puzzled as to why the performance dished out by his players was no where near what is expected.
"Today we were very bad. We played a very bad game. I don't know what happened to the boys. They looked very tired and can't even control the ball. I'm very disappointed with today's performance and I think we deserved to lose today."
"We are dropping a lot of points and we are going down. After this we can't afford to lose points, we need to win. We have to restructure after this and try to get more points on board. We are drifting away in the league and that's not good. If we keep on playing this way, we have big problems," said Selvamohan in the post-match press conference.
Despite able to field Jeon Woo-young, Tiago Gomes, R. Gopinathan, S. Chanturu, Fakri Saarani and Yahor Zubovich in the starting line-up, Melaka were never at the races throughout the match. 
It's a worrying sign for the team that looked very flat. With the mid-season transfer window coming up, Selvamohan also confirmed that some of the players who not continue to be part of the squad but is unsure as to who are the incomings and outgoings.
"We are looking at some changes of the players in the second window. But who will go and come in, I wouldn't know. It will depend on the new coach who will come in," added Selvamohan.
During the match at Shah Alam Stadium on Saturday, former PKNS head coach E. Elavarasan was seen watching the entire match alongside Melaka Football Association Deputy President, Datuk Yusoff Mahadi and the experienced coach could well be the next man to take over.
If Elavarasan is the man for Melaka, he will have a tough job at his hands to prevent Melaka from sliding further down the table.